Does Extraglaze stop condensation?
Extraglaze can be an excellent long term solution, reducing and more often than not eliminating condensation. For a day or so after fitting it is common to still experience a little condensation on the original window, because the installer breathes all over the window while working, and his/her breath is caught in the gap as soon as the panel is applied. However, on a dry day the panel can be removed to allow (or waft) dry fresh air to replace the damp air. Condensation does not usually return (unless there is a fresh source of dampness within the window itself e.g. leaks or damp wood or bricks). Instances of mould are reduced dramatically, usually eliminated, as the cavity stays dry. Consequently the life of the paintwork on an intricate window frame is greatly extended, and stays looking fresh.

If the window has suffered condensation prior to the installation then it is likely that water has soaked into the woodwork. As soon as the Extraglaze is installed then this creates a little greenhouse on your window, consequently the air in the gap gets quite warm. Soon the wood will "perspire" and start drying out. This is very good news for your window frame, but you will find condensation inside the gap on the glass in the mornings.The solution is to remove the panel and wipe off the condensation, or to allow this to evaporate (this may happen later in the day) then, with the panel removed, waft dry, fresh air into the gap. You may have to do this several days in a row. At some time the frame will be dry and this will stop happening.

You may read that secondary glazing does not solve condensation. This is commonly known for secondary glazing made of glass. Extraglaze however is superior to other types of secondary glazing because the acrylic can maintain a comparatively warm surface. A chill does not pass through the acrylic nearly as well as it can through glass (glass will transmit heat about 5 times faster. Please note there are some incorrect statements on the internet that suggest it is the other way around!). So the inner pane of your window, i.e. the Extraglaze, is not prone to collect condensation.
IMPORTANT NOTE: Condensation is a symptom of insufficient ventilation i.e. a humid indoor atmosphere. Extraglaze does not cure this. Humidity is commonly a result of steam from showers & baths, kettles, poorly vented tumble dryers, cooking pots and a busy house full of people. Condensation may settle elsewhere i.e. humidity may condense on another cold spot in your building. Condensation is most common upstairs, because humidity rises up with hot air. If you still experience condensation after Extraglaze has been fitted then do check it for gaps i.e. where the magnets may not be mating correctly. This suggests incorrect fitting. If there are no obvious gaps then this is a warning sign that you have an abnormally humid room (therefore poorly ventilated or entirely unventilated) and action is required to reduce this. Such poor ventilation is very likely harmful to your health and the fabric of your building.
What depth of air gap is best on my windows?
For thermal efficiency a 85-100mm air gap (or cavity) is ideal, but on many windows this is not practical (and unheard of on domestic double glazed windows). In practice any gap over 25mm is still a good one. Less than 25mm and more than 100mm is not nearly so effective. Deep air gaps can still be very satisfying (far better than no gap at all), but the large cavity allows air to circulate and so heat is transferred from outside to inside. For sound insulation a gap of 30mm is moderately effective (to the human ear at least!), increasing in effectiveness as the gap gets larger. In our tests at the Building Research Establishment the test equipment suggested a good level at 125mm, and on larger gaps the additional benefit, while helpful, really tailed off. However please do note that larger gaps compromise thermal efficiency.
Will Extraglaze work behind my shutters?
Yes. If you have hinged & folding shutters, whether authentic and built into the walls, or modern louvre shutters, then magnetic secondary glazing is commonly the only option. The glazing panels are less than 9mm thick, which means they can usually fit directly behind the shutters. Where the shutters close right up tight to the window frames then it is possible to add new surfaces that are recessed within the glazing aperture. This is a method we only advise for the more competent DIY installer, or better still for one of our approved fitters, because accuracy and out-of-square can become a major obstacle, and expensive to put right if it goes wrong. If you have a bay window then this is particularly difficult for the first-time installer to get right.
ABOUT OUR PANELS
What are Extraglaze panels made from?
Extraglaze panels are made of 3mm thick* clear cast** acrylic (not glass). We only use genuine branded Perspex. Around the edges we apply magnetic tape with a white, industrial, tape adhesive. The magnets increase the overall thickness by another 5.2mm. The total nominal thickness is therefore 8.2mm. Furthermore we colour match the edges of every panel to your windows using a vinyl tape which you select from our standard range, or you can ask us for a bespoke colour (please call us to discuss), or for no additional cost we can prepare your panel edges for DIY painting. The tape (or paint) additionally masks the magnets. The best way to get familiar with this description is to order a Free Sample from our web site.
Acrylic, although it can be graded differently, is widely used in aviation for windows and helicopter cockpits, for car headlamps and in most spectacles. All of these items get a lot of wear over several years in constant service, so you can be reassured it is robust. It is not susceptible to UV damage, crazing or discolouration (imagine high altitude UV exposure on a long haul flight). When the sun passes through acrylic less than 7% of the energy is absorbed, compared to other plastic glazing materials that heat up and expand very rapidly.
Acrylic is clearer than glass and half the weight. And of course it does not have the fear factor of glass when handling.
Finally acrylic can crucially flex: in older properties it is very common for window frames to be a little distorted – therefore in combination with the magnetic edges our Perspex acrylic panels can flex to the shape of your window frames and make a perfect seal.
Saverglaze panels are made from 3mm thick clear extruded acrylic.
We do not use 4mm thick acrylic because this would increase the weight of the panels, and put an unnecessary load on the magnets. The extra 1mm nominal thickness would not make a noteworthy, better choice of insulation. Very rarely we might use 2mm thick acrylic (for special installations), however, this material is more difficult to manufacture, so, while lighter duty, it is more expensive.
*the manufacturing process of casting acrylic means the thickness can vary. So some panels are a bit thicker, some are a bit thinner.
** Cast acrylic can be compared to extruded acrylic as follows:
Cast acrylic has...
better chemical resistance
comparable or better scratch resistance***
reduced internal stresses, allowing it to perform better when being cut, and after cutting.
The Perspex we use for Extraglaze panels is widely used in the cosmetics industry – please imagine the "crystal cabinets" used in department stores, typically for the perfume counters. These counters are almost constantly being polished and exposed momentarily to some cleaning agents or chemicals (like nail varnish & nail varnish removers), on a daily basis.
***there are different types of scratch tests.
Should I choose the premium Extraglaze, or the budget Saverglaze?
For a few years we abandoned Saverglaze, because we needed and successfully developed a better, more reliable product - which is now our Extraglaze product. However, with pressure to offer a budget option we brought Saverglaze back. We would suggest Saverglaze should be chosen only when budget comes first, where the situation does not require the very best (for example in a shed or workshop), or where the property only needs a temporary fix, for example if you plan to move out or do more extensive renovations (and then install Extraglaze) after one or two more winters. In our experience the adhesive used on Saverglaze magnets has a small, unpredictable failure rate - consequently it is not as reliable as Extraglaze, and is sold without any warranty whatsoever. The other aspects to consider with Saverglaze are highlighted in the comparison chart on our home page. Although we have a limited understanding of other brands of magnetic secondary glazing we believe they are prone to the same quality issues as Saverglaze. So if you want to invest well, and choose only the best magnetic secondary glazing then we recommend you choose only Extraglaze.
Is acrylic better than other glazing materials e.g. glass or PETg?
Acrylic is better than glass in many ways. It is significantly clearer. Most spectacles are made with acrylic. It is safer, as it can take a hit unlike glass. Acrylic is 17 times stronger than glass. It will certainly never be as dangerous as broken glass. It is also much lighter, at least half the weight of glass (plus Extraglaze has only magnets rather than a frame). For these last two reasons Extraglaze is safe and easy to lift away to open or to clean your windows. For secondary glazing purposes acrylic is also flexible enough to take on the shapes of old timber window frames, and numerous layers of paint, which are often far from perfectly flat. Trying to attach a glass panel using magnets in the same way will almost certainly fail, and indeed could be very dangerous!

When compared to PETg, a cheaper material used for modern impact resistant glazing, Extraglaze's choice acrylic is at least 5% clearer and does not need to be UV stabilised. PETg has a slight tint. PETg is also less scratch resistant than acrylic. Whereas acrylic can be polished, PETg can't.
Why do you use acrylic for Extraglaze panels?
Acrylic is an excellent choice for Extraglaze panels. Acrylic has been used in lots of glazing applications for many years, including most spectacles, counter tops, safety guards, motor cycle helmet visors, car headlamps, police vehicle protection, greenhouses and even aircraft cockpit hoods. It is much tougher than glass, does not soak up infra red and expand like other plastics when in the sunshine, is unaffected by UV rays, does not discolour and is optically very clear indeed.
Are the acrylic Extraglaze panels brittle?
No. Acrylic is known as an "engineering polymer" which means it is a premium material of choice for important components in all kinds of tough environments. We have first hand experience of dropping quite large panels (by accident of course!) - we worry more about the damage the panel might do than the damage to the panel itself!
DIY INSTALLATION
Installation Basics
Extraglaze Secondary Glazing is applied on the inside of any window, never outside. Our Measuring Guide is fully illustrated and will answer a lot of your DIY questions very quickly. If you need to discuss your windows we are ready to help. We'll almost certainly request some photos - these should be taken indoors, without drapes or blinds, and when bright outside light does not wash out the detail. We'll want to see the windows as a whole, some details of the frame woodwork (from about a foot away) and any other details you think we should know about.

When looking at your windows all we need to know is that:
1 - there is a flat surface all the way around each window
2 - the flat surface is in good condition (good paintwork)
Flat surfaces absent?
In some situations one or more flat surfaces are missing. An example is shown in our video called "Watch an Overview..." (find this in our Gallery), and some other example appear on page 11 of the Measuring Guide. Our fitters are resourceful, and can usually add a very effective instant, white flat surface. Often there is a simple DIY fix, adding a small timber, or our PVCu right angle channel. Where there is no surface adjacent to a staff bead then it is not difficult to remove the staff bead and place a batten there, then refit the staff bead on top.
Sash windows – what to do about staff beads that stick proud?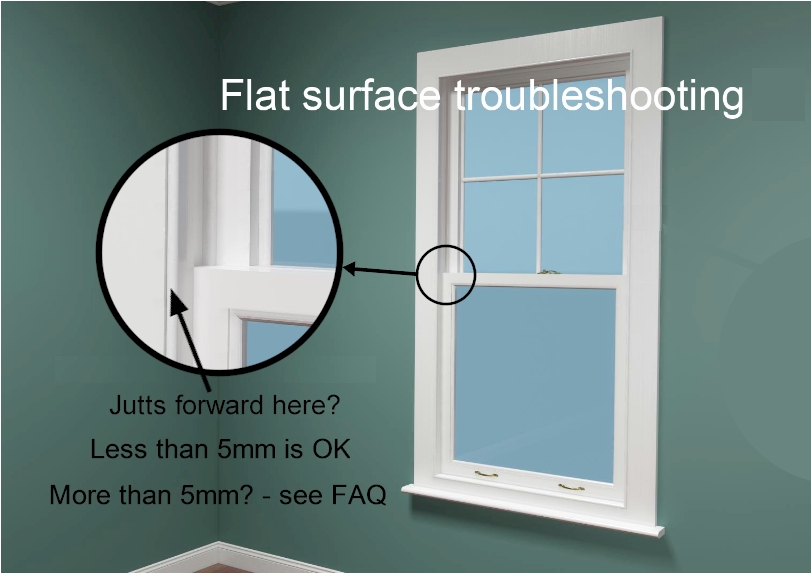 On sash windows it is common for the staff beads to be fitted badly or they simply stick out further than the surface of the frame (as shown in the illustration). The "sandwich" of magnets on the back of the glazing panel are altogether just over 5mm thick - consequently the Perspex can bridge a bulge of up to 5mm. If your staff beads stick out more than this then you can probably refit them (correctly) which is generally a good thing to do, with a little repainting afterwards. Or you could replace them with a smaller staff bead. Or thicken the adhesive on the frame-side magnets by laminating it with an extra layer or two of our Extra High Bond Adhesive (from our Accessories Shop). Should you choose to do the latter then please note that these adhesives grip permanently instantly, so you have to be super careful when laminating. Or, you may need to bulk out the sufaces were the magnets must go with either our Flat PVCu strip fixed with some Extra High Bond Adhesive (both in our Accessories Shop) or a light batten all around the frame. If this is not entirely clear then we recommend you order a free sample from us. then try placing this up against your window frame. NOTE: for these last two suggestions please remember the depth of the Centre Bridging Timber will need to be adjusted.
Window painting
If you are painting your windows in advance of Extraglaze Secondary Glazing it is very important to do this to a professional standard. This would include removal of loose paint, a good sanding down, cleaning with methylated spirits (use white spirit for oil based paints), and primer applied before undercoat or top coats.
MAINTENANCE
How do I keep Extraglaze clean?
Extraglaze must only be cleaned with an new/uncontaminated microfibre cloth. Please never use any other type of cloth, and never use a paper tissue (tissues usually contain tiny amounts of a mineral powder which will scratch just about anything!). Microfibre cloths are very cheap and very easy to find in any supermarket or hardware store. A very clean soft cotton cloth might sometimes be acceptable, but is nowhere near as effective as a microfibre cloth. Whereas a microfibre cloth will literally grasp dust particles as soon as it comes in contact, a cotton cloth will just sweep some of the dust around. Do not use a "used" microfibre cloth, because this may have dirt caught up in its fibres, which will scratch your panels.
What cleaning agents shall I use on Extraglaze?
Extraglaze panels are best cleaned with VuPlex® anti-static cleaning fluid (this was specially developed for the aviation industry, for cleaning cockpit windows). A tiny amount will clean and polish an Extraglaze panel in a few seconds with minimal effort (always using only a new microfibre cloth). You can buy VuPlex® in our online shop. If you employ our "Fitted by Us" service then we will supply you a can of this at the end of the project. You can also use very dilute solution of soapy warm water, though without both the anti-static and the polishing effects.
My panels have arrived scratched. What should I do?
We inspect every panel we send out – thousands every year. We would never knowingly send a scratched panel to a customer. It is very likely the damage you see on a newly arrived panel has been quality checked already and will prove to be a false alarm. But once or twice a year one slips through the net.
All our panels are covered with a protective film. While this film is not impenetrable, it is surprisingly effective at protecting your panels. In fact it is common for the protective coating to be scuffed, scratched or even ripped open a little here or there. This suggests we have spent a lot of additional time inspecting every such panel to see if any damage has actually reached the panel itself. We usually catch any damage at this stage.
It is therefore very likely your panel is not damaged. In some cases the adhesive that keeps the protective film on the panel is smudged, and it just looks like a scratch. A rub with a clean finger tip will quickly show if this is the case.
How do I assess genuine panel damage?
On a very rare occasion genuine damage is found on newly arrived panels. If you discover a scratch we will be equally disappointed.
In most cases the "damage" is nothing more than a smudge, easily rubbed off with a clean finger tip.
With the protective film removed please take a very careful look at the damage. This should pay off all round. Put very simply this eliminates the down sides of a replacement, for example with further delays, and of course the inconvenience of getting your panel ready for collection, then the additional "waiting-in" for the replacement on the day of its arrival.
Transit damage: This must be reported as per our delivery notifications, within 24 hours of arrival. Otherwise we have no recourse to the courier to make a claim on their insurance. It is essential you report this kind of damage inside this timescale.
Severe scratches: Can you easily feel the scratch with your finger nail? If yes, then our quality inspection process genuinely failed - that kind of scratch is definitely not acceptable. We will replace the panel.
Light scratches: with a little care and attention these can be polished out quite quickly.
How do I polish out a scratch?
Most scratches will rub out and disappear completely, and quickly, with a bit of scratch remover, "Brasso" or "T-cut" on a clean microfibre cloth. If you don't have these to hand please contact us so we can post these items to you.
Please be reassured this will do the trick.
Please read through the following instructions before starting. We hope the emphases help.
Put a small piece of masking tape on the back side of the panel behind the scratch. Otherwise, as you apply a rubbing paste (see next step) you will lose sight of where to rub!
For deeper scratches start with scratch remover paste. For lighter scratches put a bit of "T-cut" or "Brasso" on a clean cloth, give that area a rub using side to side and maybe some circular action now and then. Only use a new Microfibre or cotton cloth. Try to avoid polishing a larger than necessary area. Do not use a paper tissue - it will scratch the panel. Note: it can take up to 10 minutes of rubbing. It should disappear, or certainly be reduced. It might only take a couple of minutes. After 10 minutes it's not worth persevering: you have probably achieved all you can at that point.
Wipe the panel clean using a clean part of the same cloth. A bit of methylated spirits or rubbing alcohol might help as a last wipe.
If you have bought some Vuplex plastic polish (from our Accessories Shop) then finish off with this. Simply spray and buff until this disappears using another clean part of your cloth.
ABOUT OUR MAGNETS
What colour are the magnets?
The magnets supplied on Extraglaze panels have a coloured top surface i.e. all the major surfaces you see when the panels are removed. Several colours are available when you place your order. Why not request a free sample? The obtuse edges (on the thickness) however (about 1.5mm) are dark brown, which is rarely of consequence, and are often unseen. The selected colour will be applied at the factory.
PLEASE NOTE: Alternatively, if you want the magnets painted (and indeed the panels) please discuss your requirements with us. For the panel edges we can certainly make this much easier for you to do, or we can do the painting for you. For more than a few panels we recommend we do the painting for you at the factory (this is an extra chargeable service).
What are "foundation magnets" ?
The "foundation magnets" are those that remain on the frame even after the panels are taken away. The mating complement of these are the panel magnets: these are the magnets permanently attached to our panels around the panel perimeters.
Can I paint the "foundation magnets" ?
Yes, but please always discuss this with us first, because we will make your panels differently. Of course, before you apply paint, the magnets should be rubbed clean with a fresh cotton cloth, then painted with a primer, undercoat and top coat just like you paint the window frames themselves. We have experience of primers that work better then others - you might like to do your own research into this.
NARROWBOATS
Does secondary glazing start a dampness problem in other parts of the boat?
We sent this question to all the customers who have our product installed on their boats. Here are the replies we received, without our editing:

SB: reported after 5 years
no I have not had the problem you mentioned at all. No damp smell or dampness. Still a pleasure not waking up to condensation on windows. Also the extra insulation is another benefit.

LB: reported a little after 2 years
I haven't experienced any damp problems elsewhere. I am very happy with my panels

RB: reported after nearly 3 years
I found that condensation was virtually eliminated in the boat, but it depends on good ventilation as well. And a solid fuel heater also helps the situation.

SP: reported after nearly 2 years
Happy to respond. Condensation on narrowboats is a direct result of warm moist air inside (due to human habitation/breathing etc as well as heating) coming into contact with the cooler aluminium framed single glazed windows. Extraglaze immediately stopped this on the windows and we have not noticed an increase in condensation elsewhere. This will always occur in boats to some degree especially in areas of poor ventilation. Condensation on below-waterline panels [i.e. hull sides] will never disappear completely - it just has to be managed with better insulation and ventilation where possible and dehumidifier products during the winter.
To make an enquiry use the Contact Us page or email using This email address is being protected from spambots. You need JavaScript enabled to view it..