Transforming the enjoyment of your own home
Extraglaze Secondary Glazing is a scientifically proven, magnetic secondary glazing, specifically designed for period windows and historic buildings.

Instant warmth retention

Your windows will look their best for much longer

Condensation very often eliminated, immediately

Clearer than glass

Sound proofing to reduce road noise significantly

Readily shaped to out-of-square frames, arches and more

So slimline and discreet it can even fit behind shutters.
Extraglaze Secondary Glazing achieves this with the absolute minimum change to the appearance of any windows. Our customers remark that their secondary glazing is almost invisible, once installed.
The benefits continue:

Instantly feel more comfortable

Your windows made better than ever

No upheaval, building works or decorating

Lower energy bills

Draughts sealed

No damage to existing windows

Light weight and easy to handle

Listed Building Consent not required*
How to compare our
Extraglaze

and

Saverglaze

products
...indeed any magnetic secondary glazing :
| | | | | |
| --- | --- | --- | --- | --- |
| | | | | |
| | System features | | | |
| | Fully assembled panels: just unpack & fit | | | |
| | Superior packaging = safe delivery every time | | | |
| | All panels labelled for identification | | | |
| | Panel edge colours match your windows | | | |
| | Scientifically proven in independent tests | | | |
| | Extra high bond adhesive | | | |
| | Frame magnets also match your windows | | | |
| | Maintenance free magnets | | | |
| | Genuine Crylux ® clear cast acrylic | | | |
| | Continually being developed and improved | | | |
| | Fitted by us option | | | |
...over glass in sliding aluminium frames:
Benefits to consider...
Extraglaze Secondary Glazing
Sliding aluminium
Condensation
Very low

**

Serious
Thermal insulation
11% better U-value than aluminium
Product thickness
8.2mm
Typically 40mm
Frames
None
White aluminium
Change to your window's appearance
Almost none
A bulky glazed unit
Sound proofing

***

---- Comparable ----
SURFACES
Warm to the touch
Chilly glass & metal
*We have installed Extraglaze Secondary Glazing magnetic secondary glazing in all types of listed buildings, in conservation areas and in World Heritage sites. In every case, after discussion with the relevant bodies, no formalities/consent was required. We advise that customers always make appropriate enquiries in case an exception should arise, however usually a phone enquiry is all it takes to get clarification.
**In tests conducted for us at Coventry University, Extraglaze Secondary Glazing suffered 78% less condensation than the aluminium framed glass secondary glazing, when fitted to a sash window, with high humidity 'indoors' and temperatures of between -5 and -10 centigrade 'outdoors'.
***In tests conducted for us at the Building Research Establishment, we compared Extraglaze Secondary Glazing against an aluminium system stiffened by sliding framework running down the centre of the window. This stiffness gave it a slight advantage. Whereas the Extraglaze Secondary Glazing had no stiffeners, and looked much better for it. Had we stiffened it we believe they would have been more comparable.
Fitting Service - or DIY
We can expertly install for you or supply fully assembled panels for you to fit with our full guidance. Order your free sample pack here.
Solutions for listed buildings & conservation areas
Extraglaze Secondary Glazing is the ideal secondary glazing solution for Listed Buildings and for those in Conservation Areas, being particularly suitable for buildings of historic significance. Planning Permission or Listed Building Consent will almost certainly not be required from your local authority. "most authorities encourage the fitting of secondary glazing to increase the thermal efficiency of period windows."


Fitted by Us service – for a fuss free installation
We provide a complete Supply and Fit service, from the initial survey right through to fitting and after sales care. You can get an initial estimate online here without the need for our surveyors to call. If you are happy with your estimate you can book a comprehensive survey and follow up quote online too.
Where do we install?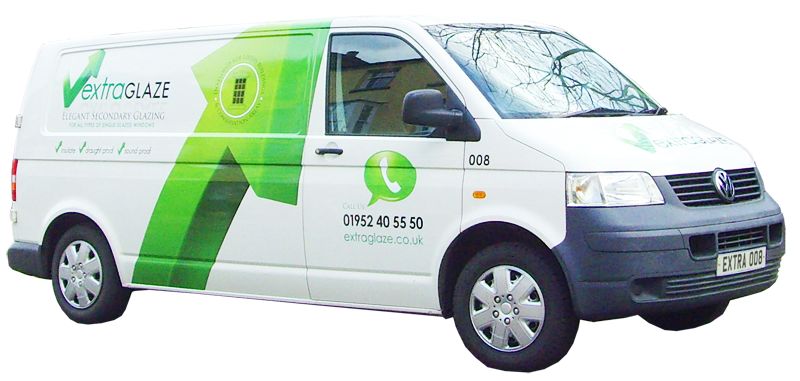 We are working towards installing nationally but at present there is no surplus charge within a 50 kilometre radius of our Telford base or one of our national installers. If you are beyond that distance, we will ask a fair and reasonable charge for travel time and fuel.

Please send us your own measurements in the first instance to obtain an initial estimate. If you feel totally confident in measuring and installing for yourself then please use our Estimate or Buy Online pages to place your order.
DIY - fully assembled for you to install
We supply DIY secondary glazing panels ready to install. These are not kits, they are made to measure, fully assembled and ready to apply. In many cases all you need to do is open the box and fit the panels to your windows. We will supply a comprehensive set of fitting instructions and are available to offer help via our helpline phone number or via Skype or Facetime. Download our measuring guide here and then enter your measurements into our online estimator where you can also place an order.
To make an enquiry please use the Contact Us page
or email us - This email address is being protected from spambots. You need JavaScript enabled to view it.